Meet the Doctors at
Covington Chiropractic Acupuncture & Weight Loss Center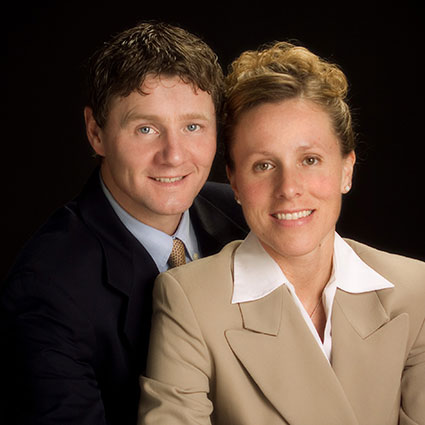 Dr. Lori and Dr. Jamie met at Palmer College of Chiropractic in Davenport, Iowa. Dr. Lori never considered becoming anything other than a chiropractor. She received chiropractic care throughout most of her youth, and while swimming in high school. She knows her success in competitive swimming came from her desire to train hard and receive regular chiropractic care.
Dr. Jamie was introduced to chiropractic after a diving accident, at the age of 16, left him in the hospital for several months with a neck fracture. After wearing a halo and other neck braces for nearly a year, there was almost no movement in his neck.
His sister introduced him to a chiropractor, who would become his future brother-in-law. By following his chiropractic care plan, Dr. Jamie regained almost 100 percent of the movement back in his neck. His success led him to become a chiropractor.
Dr. Lori and Dr. Jamie would have never met and have two beautiful children, if it wasn't for chiropractic. That's why they're so enthusiastic about chiropractic and what it has to offer!
An Education in Chiropractic
Dr. Lori began her journey at the University of Wisconsin in Milwaukee, and Dr. Jamie started out at Metropolitan State College in Denver. They both attended Scott Community College in Bettendorf, Iowa, fulfilling their basic science requirements.
Once finished, they were both accepted at the prestigious Palmer College of Chiropractic in Davenport, Iowa. After Dr. Lori graduated in 1998, and Dr. Jamie in 1999, they moved to Indiana to start practicing chiropractic.
Sharing the Benefits
Both doctors understand the importance of explaining everything in advance, answering questions, and communicating to their practice members what chiropractic is, and how it can benefit every member of their family.
Drs. Lori and Jamie, along with their children and staff, receive chiropractic regularly. Their children have been adjusted since the day they were born, and have been blessed with incredible health.
EXPLORE OUR SERVICES »
Outside the Practice
When they're not helping practice members, both doctors spend time working on their relationship with Jesus Christ, their Lord and Savior. They usually spend any available time outdoors with their children, and are also avid triathletes.
Quality Care Is Available
Our doctors would love to show you what chiropractic can do for you and your family. Contact us to book an appointment and get the outcome you want and deserve.
---
Meet the Doctors at Covington Chiropractic Acupuncture & Weight Loss Center | (260) 244-3665